News/Press
July 2019


The cover photo on the Guitar Player Magazine Facebook page - Points North and friends, from the Guitar Player Magazine "Play it Forward" benefit show!

Left to right:
Jennifer Batten (Michael Jackson, solo artist)
Eric Barnett (Points North)
Andy Timmons (solo artist)
Patrick Stone (Budderside, Adler's Appetite)
Kevin Aiello (Points North)
Noelle Doughty (Zepparella)
Uriah Duffy (Points North)
Gretchen Menn (Zepparella, solo artist)
Tracii Guns (LA Guns)
Michael Molenda (editor in chief, Guitar Player Magazine)
March 2019


An article on our "Rush vs. Yes" series (as "
Fred Barchetta
") in the
Fairfield Daily Republic
.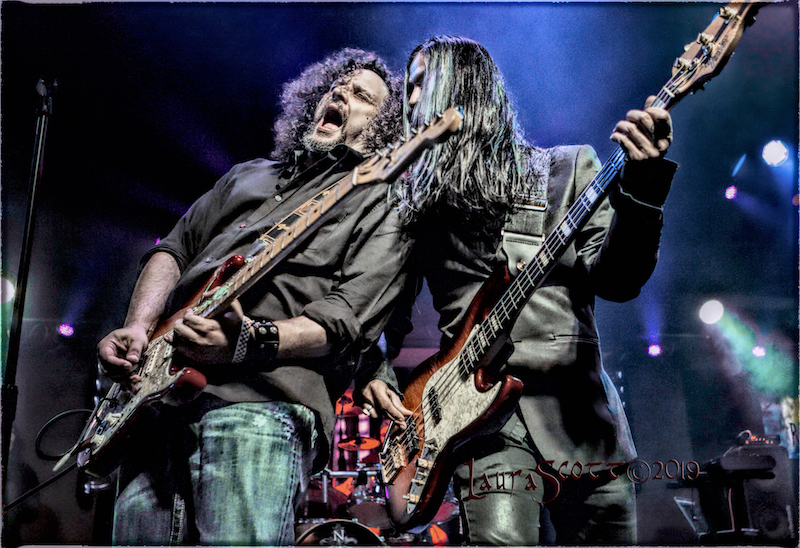 September 2018


We're proud to be the featured artist in the September 2018 issue of
Goldstar Rocks Magazine
!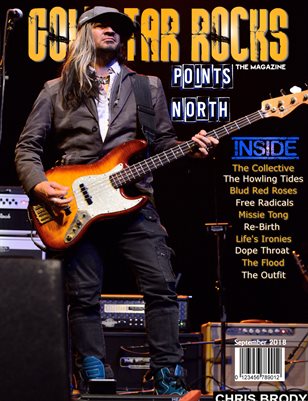 July 1, 2018


Points North in July's Guitar Player Magazine as part of the article on the "Play It Forward" benefit show! (Check out all the pictures and the article, but this is our favorite...)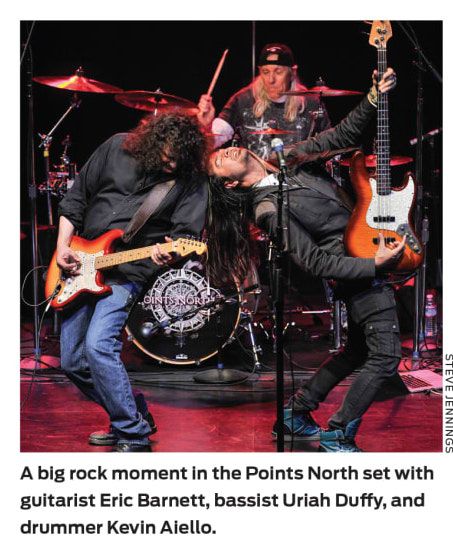 March 30, 2018

We're honored to be a part of this amazing event!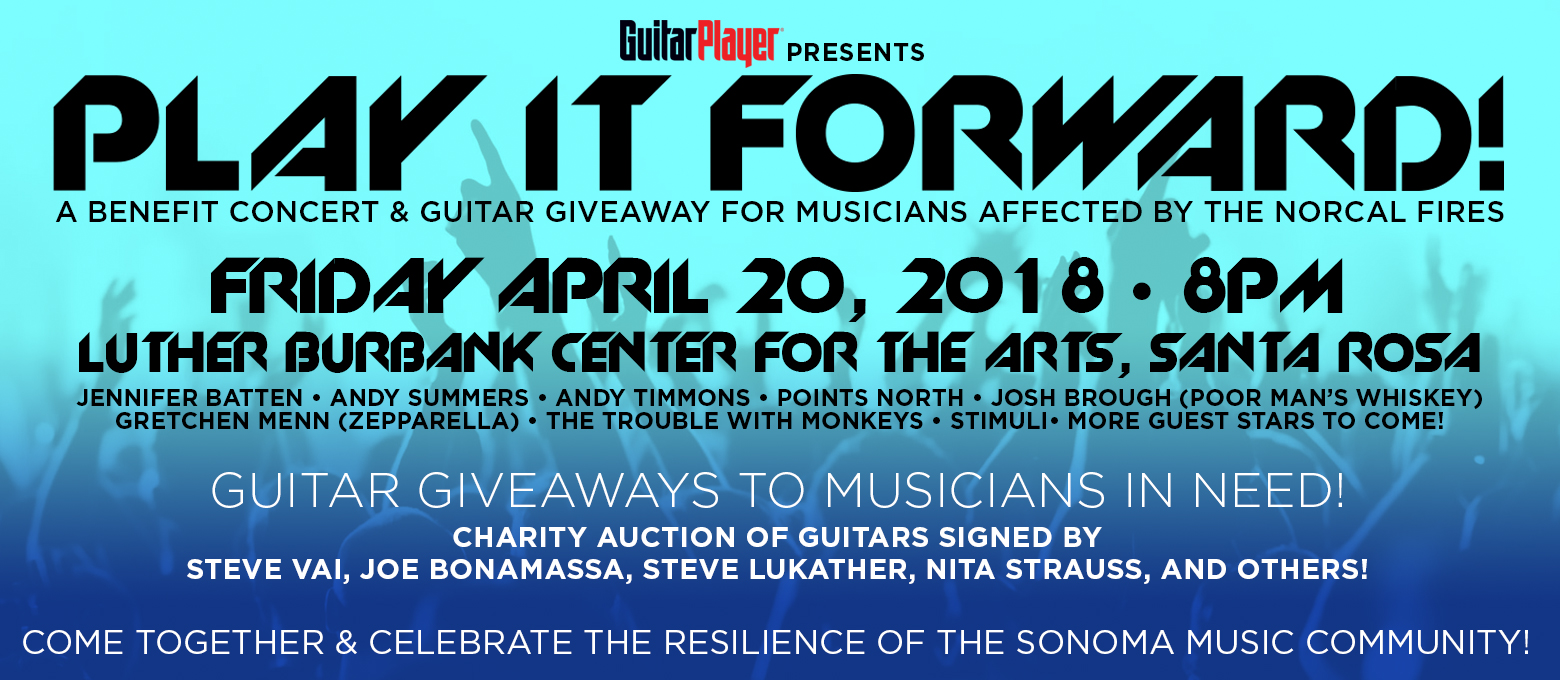 January 15, 2017

Uriah Duffy on the cover of Bass Quarterly magazine!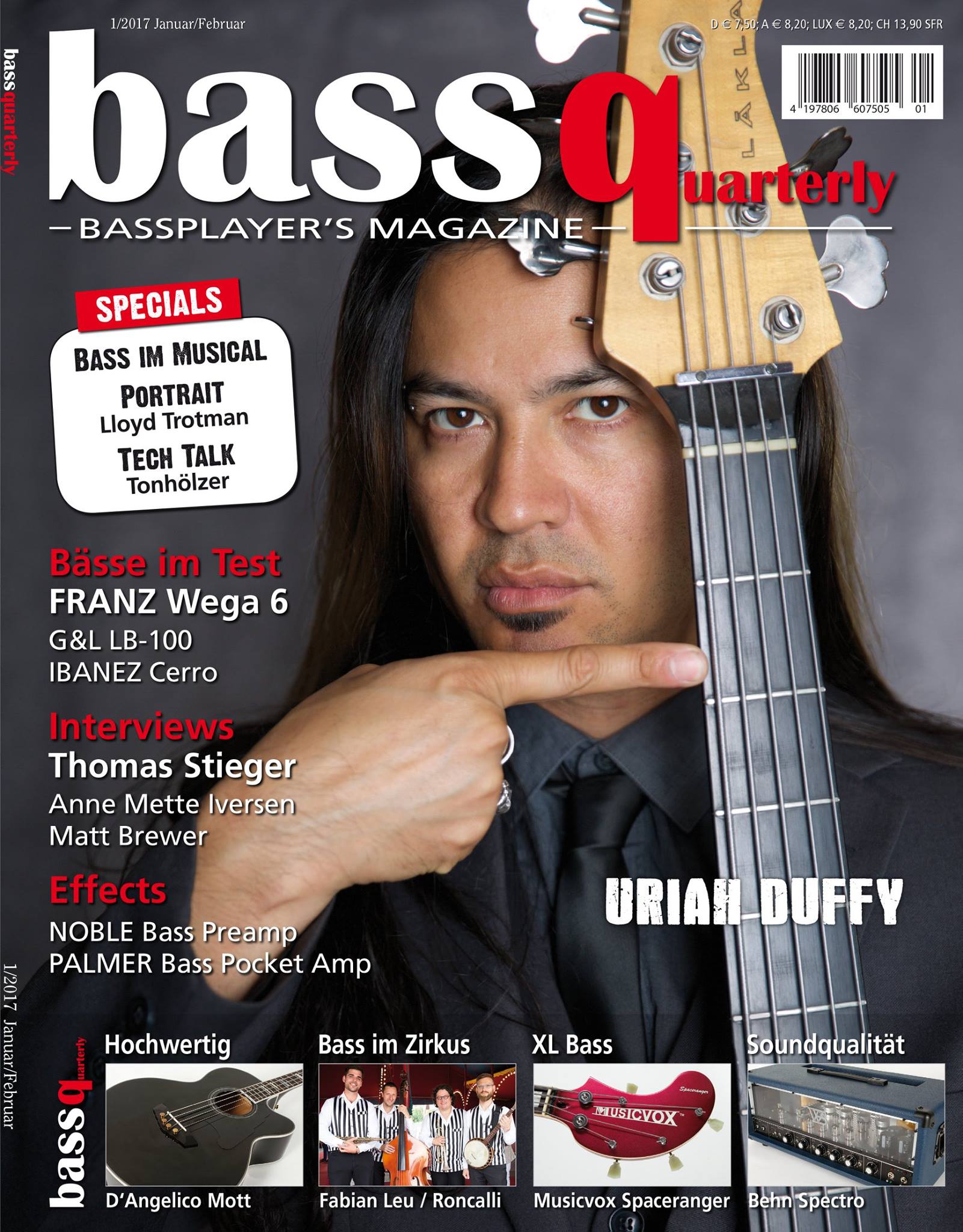 October 11, 2016

We have our own Wikipedia page!
https://en.wikipedia.org/wiki/Points_North

June 30, 2016


Doing double duty on some Pat Travers/Points North dates - playing our original set and then appearing with Pat as the Pat Travers Band!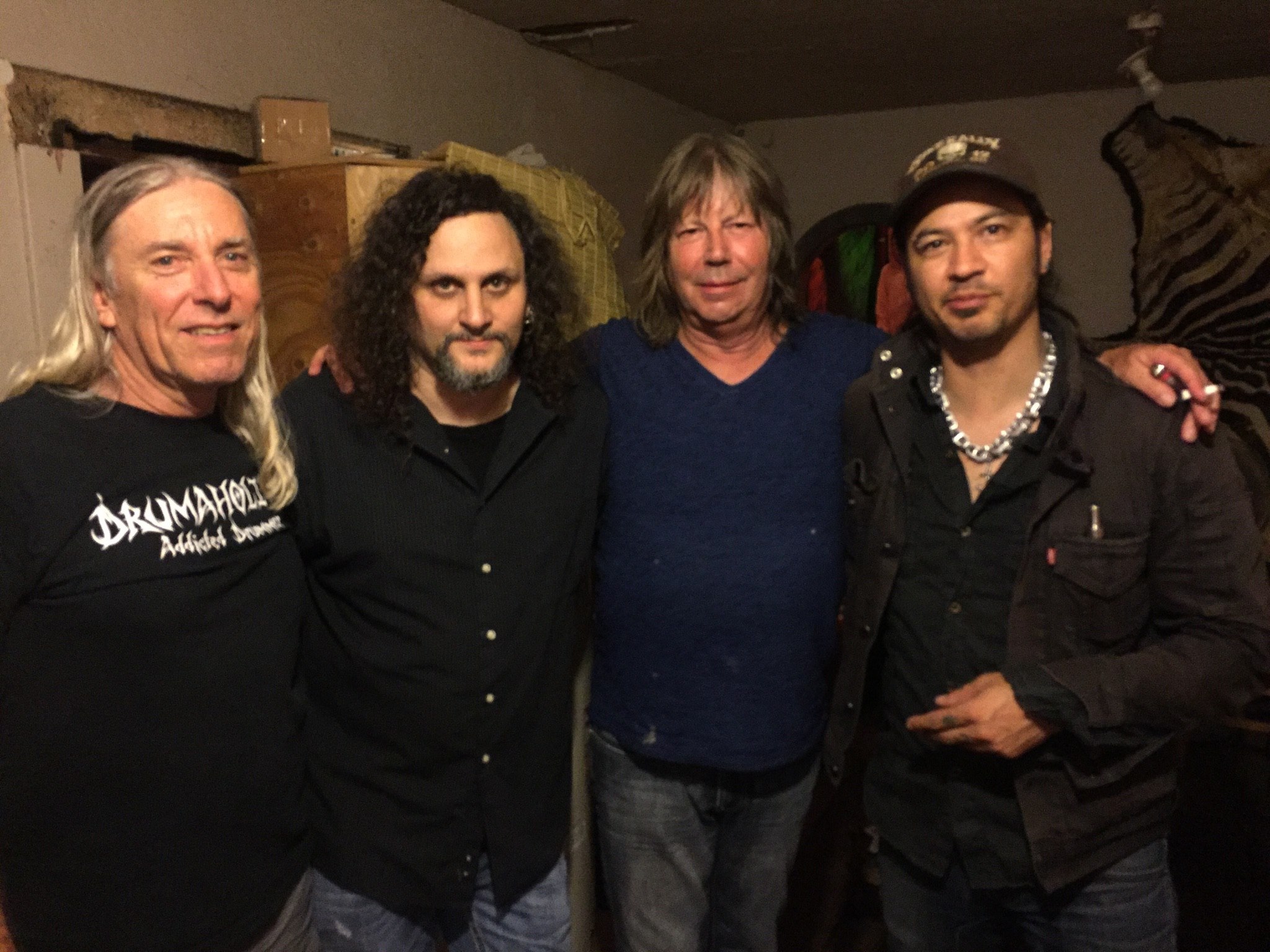 May 4, 2016


Eric & Uriah rocking out on the cover of Electronic Musician magazine.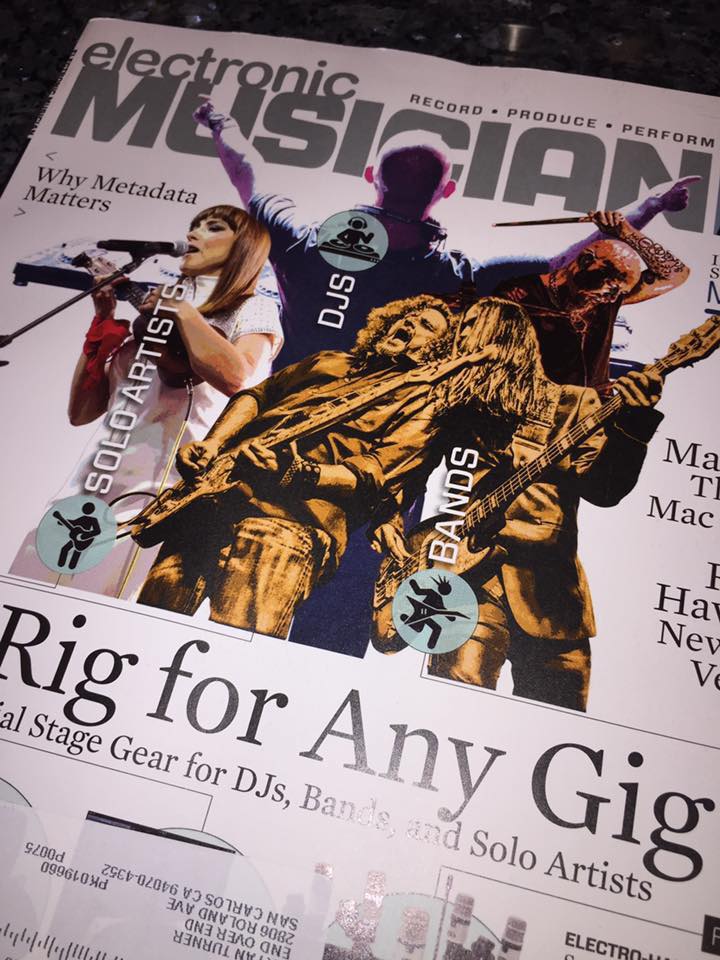 November 15, 2015


Our own Uriah Duffy and Points North on the cover of the December 2015 issue of
Bass Player Magazine
!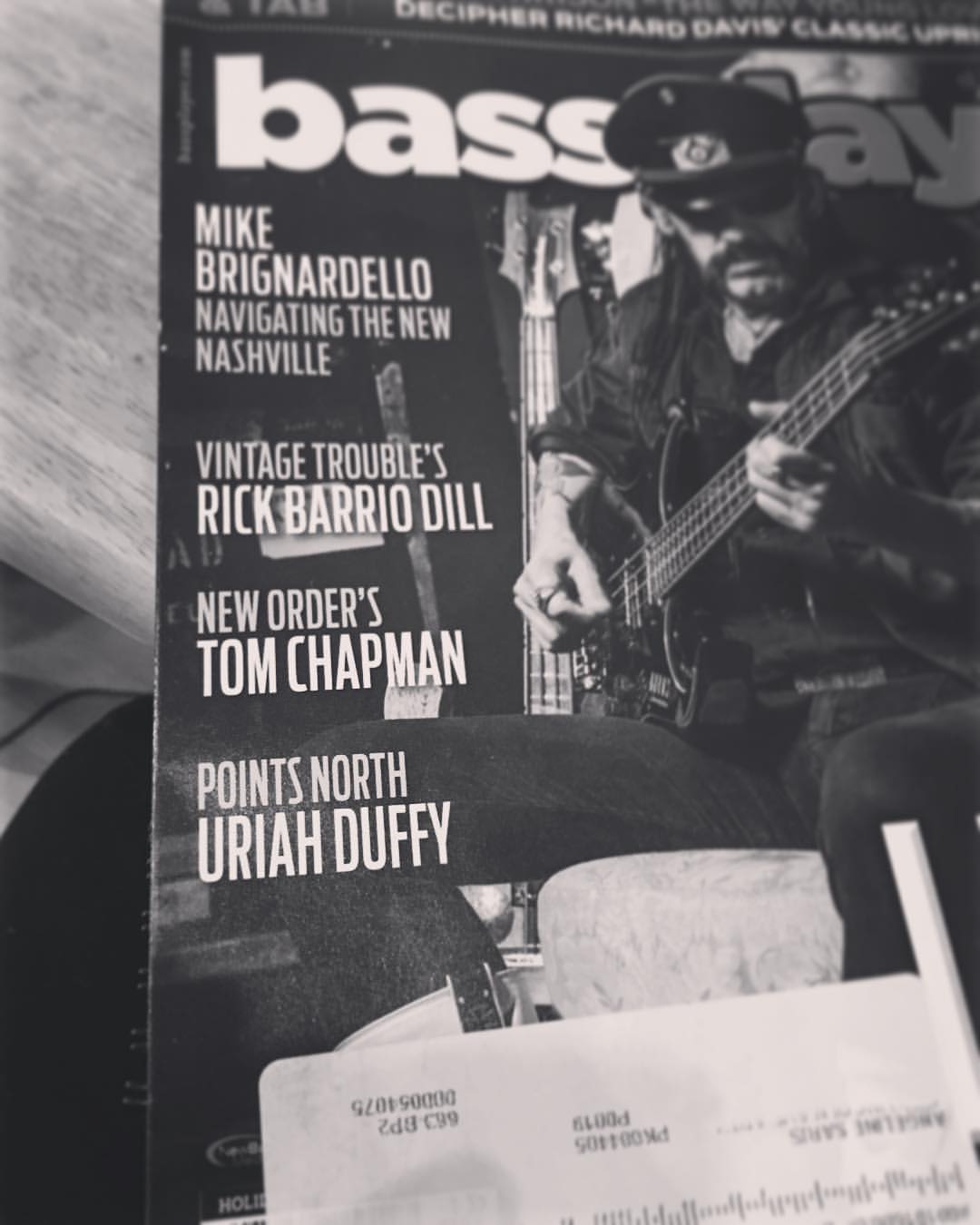 September 26, 2015

Bass Player Magazine sponsors our headline show at Brick & Mortar in San Francisco as part of their "Bass Player Presents" series.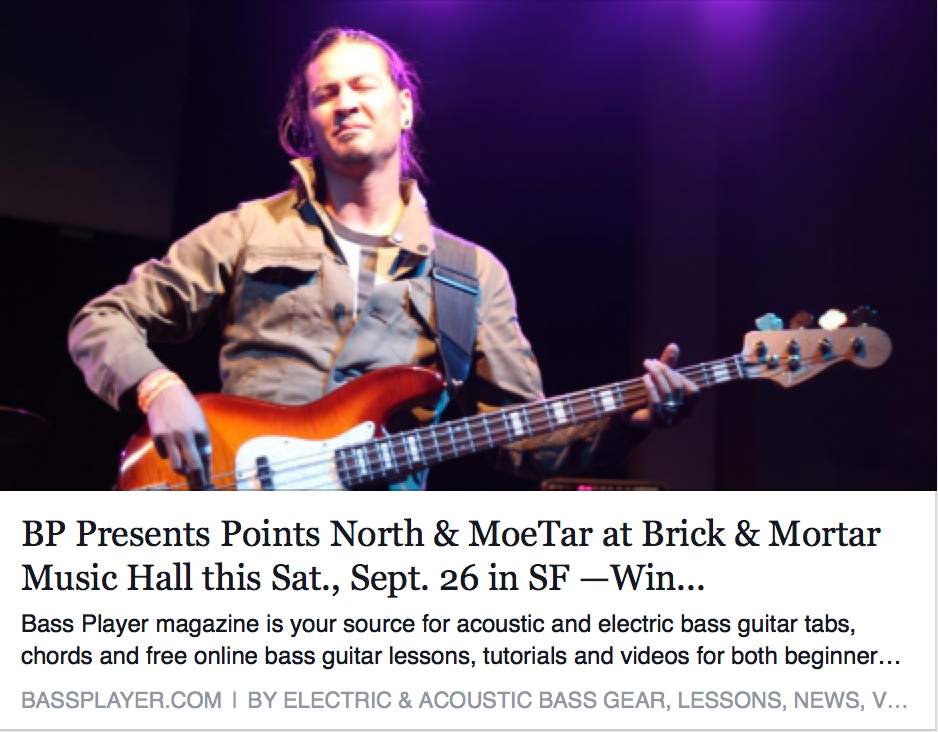 August 8, 2015

Points North plays at Guitars Under the Stars supporting Robert Cray, Los Lonely Boys, and Gary Hoey!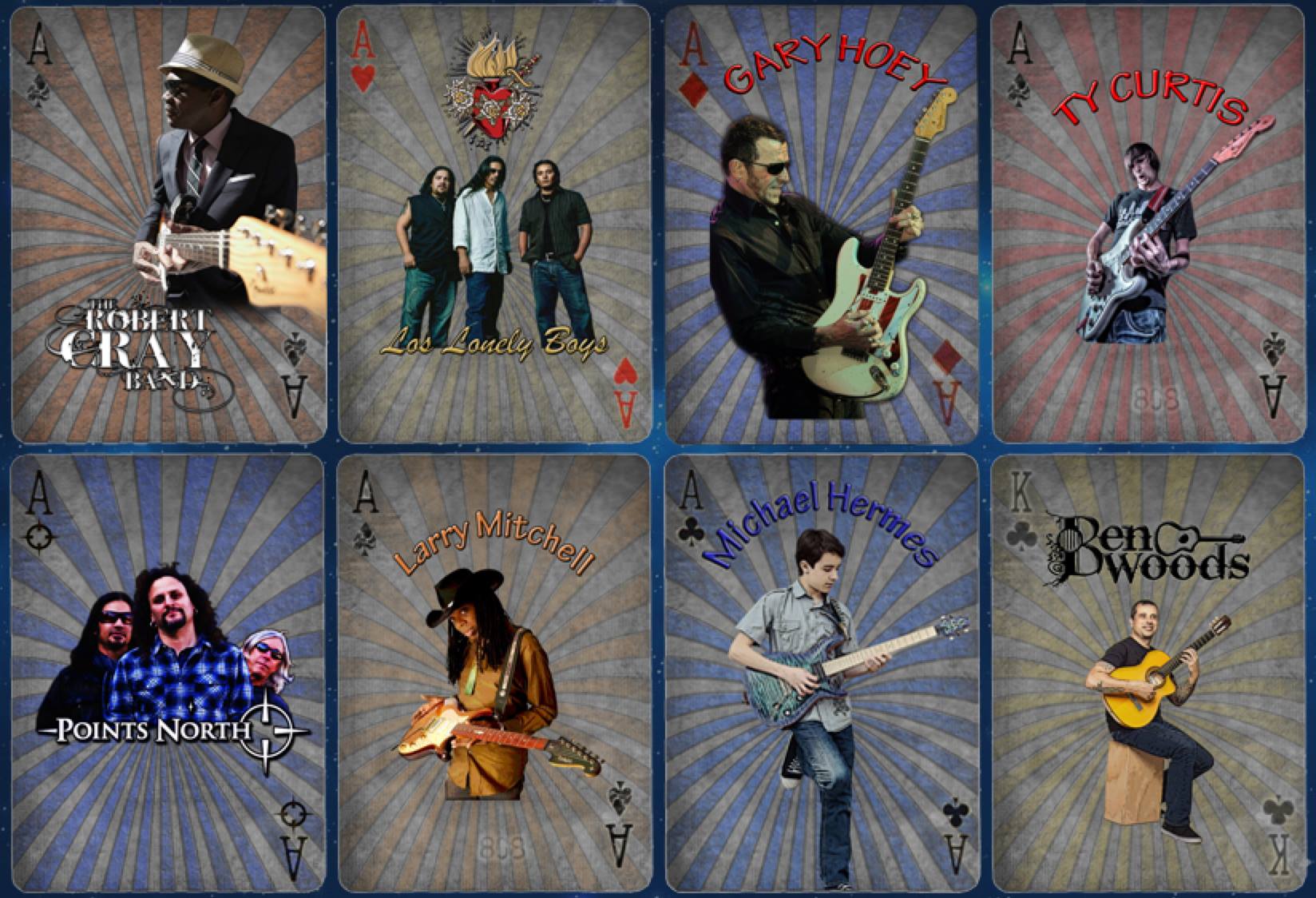 June 9, 2015


The video for "Ignition", the first song from our self-titled second record, crosses over 100,000 views within two months of release!



May 1, 2015


We are thrilled to announce our official CD release party and celebration for our recently recently self-titled second album on Magna Carta Records, on May 29, 2015 at The New Parish in Oakland, CA.

Please see our Calendar page for details.






April 21, 2015



The reviews of our new self-titled album so far are AMAZING:

"Once you get done with Points North you'll have to take a breather, rest up a bit, 'cause you'll want to relive this one again and again and allow these dazzling arrangements to get your ticker working overtime and your blood pumping at insane levels. This is a hot one folks!" - Sea of Tranquility

"Points North latest release is a sojourn through many auditory landscapes. Expect nothing less than being taken on a mind blowing journey. Amazing is a word over-used these days but I have no hesitation in using it here. Enjoy! Highly Recommended" - Dedicated Rocker Society

"…Points North is another fine album of guitar driven melodic progressive rock, something from which guitar wonks will probably get a large woody. Recommended." - Dangerdog

April 9, 2015

We are pleased and excited to announce the release of our second, self-titled album, on Magna Carta Records, on April 21, 2015.

Pre-order copies are now available at magnacarta.net/pointsnorth and
all orders taken prior to April 21 will be signed by Eric, Kevin, and Uriah.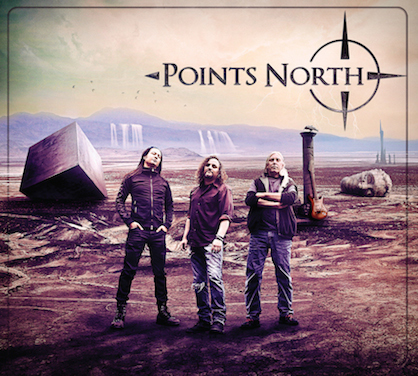 January 25, 2015

We had a busy and amazing time at the NAMM (National Association of Music Merchants) Convention this year!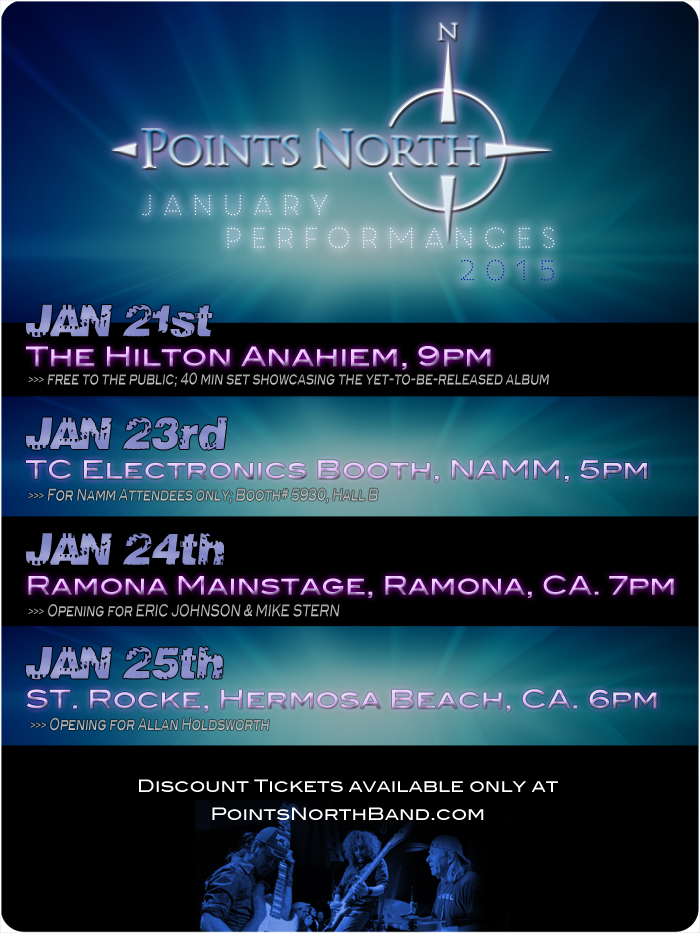 August 8, 2014

It was an honor to be a part of the first annual Guitars Under the Stars festival in Lebanon, Oregon!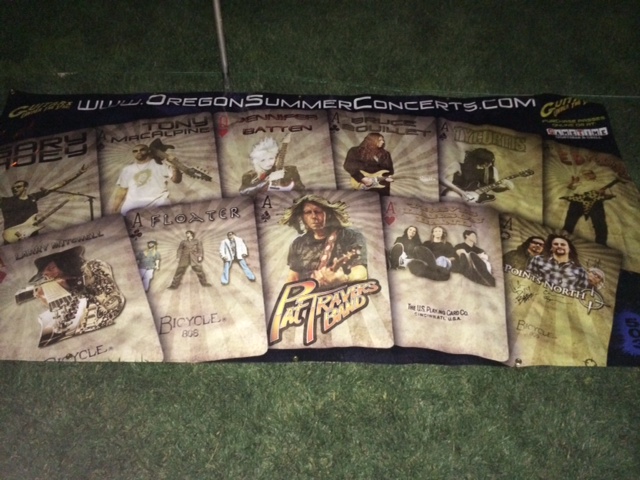 March 16, 2014

We're firmly esconced in mixing our second album, and can't wait to share it with you! In the meantime, we're adding tour dates up and down the West Coast; check out our calendar!

November 24, 2013

We are excited to announce that we have finished tracking our second album for Magna Carta records! Watch for many more details in this space in the weeks to come!

June 4, 2013

Uriah and Eric featured in the credits of the online video game Marvel Heroes: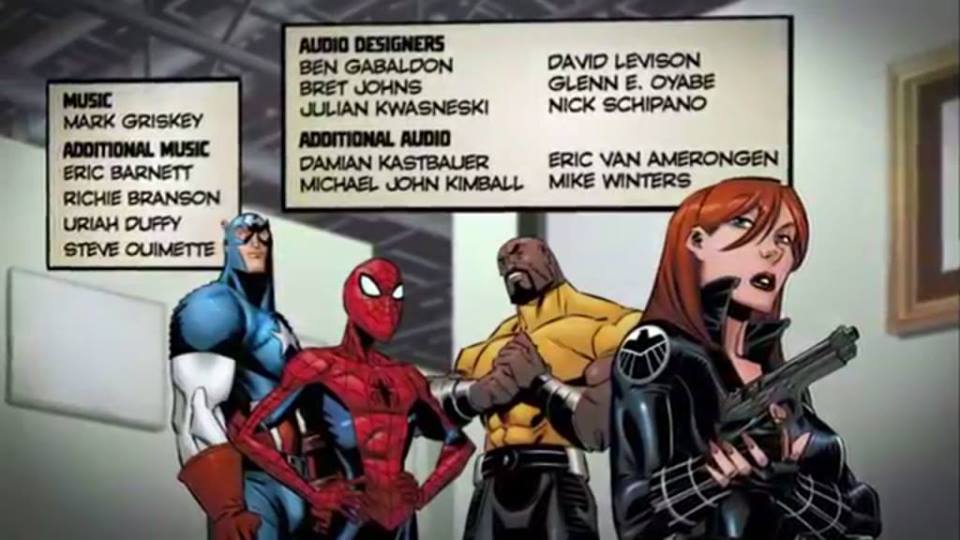 May 1, 2013

We are excited to announce that on May 17, 2013, we will commence recording our sophomore release for Magna Carta Records!

We'd like to offer thanks to Peter Morticelli and Mike Varney from Magna Carta for the amazing support, and for believing in us, and we can't wait to share the results with everyone very soon!



February 27, 2013



"Road Less Traveled" apars on 2012 "Best Of" lists!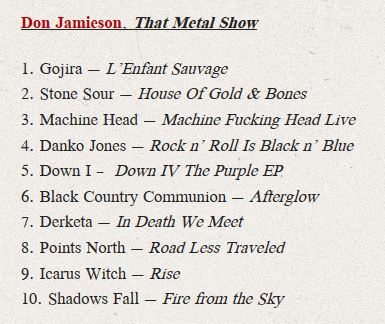 classicrockrevisited.com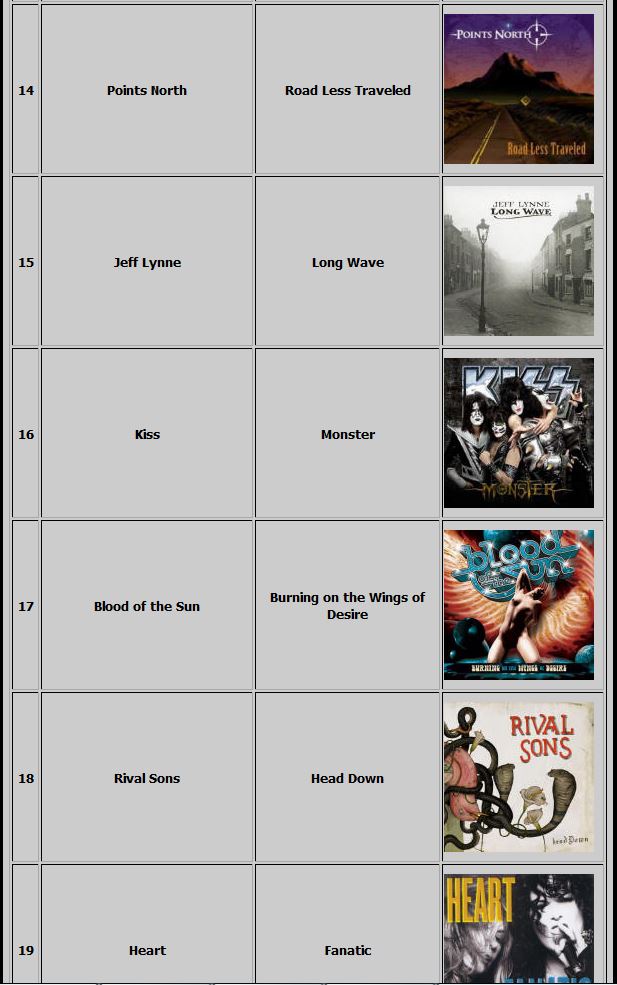 November 8, 2012



Eric Barnett in the August 2012 issue of Guitar Player Magazine, and Uriah Duffy in the Holiday 2012 issue of Bass Player Magazine!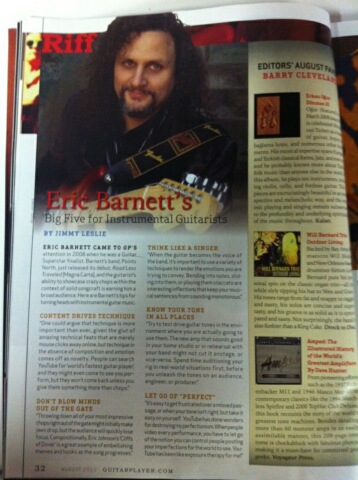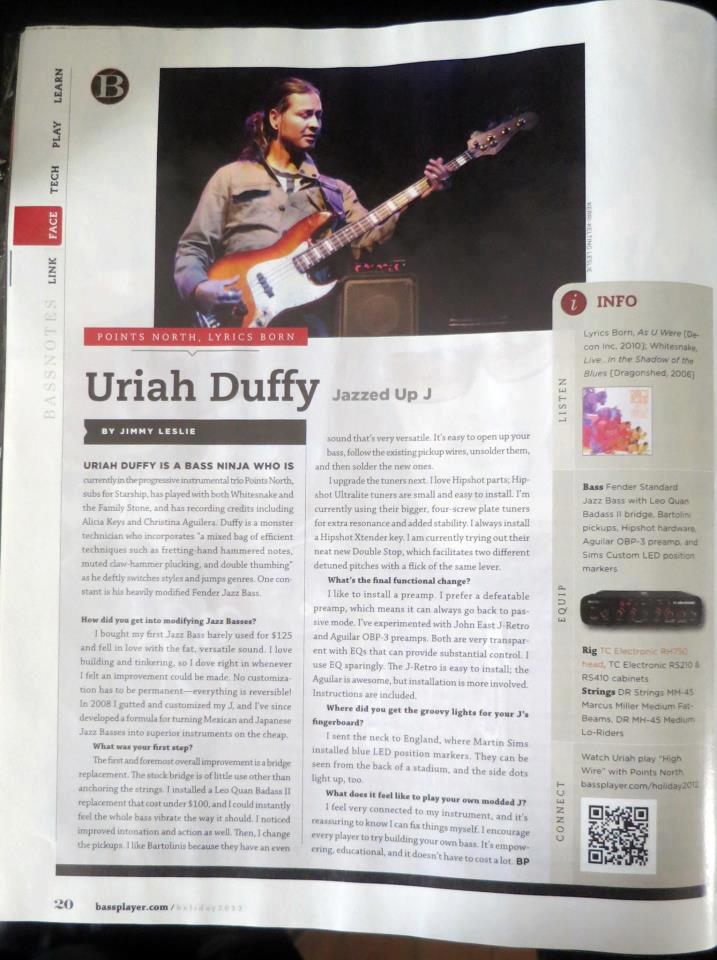 May 21, 2012



Interested in learning more about the band? Here are links to some recent interviews following the release of "Road Less Traveled":
April 30, 2012

Featuring the video for "High Wire", the popular web site for bass players no treble says

, "

Between the blazing unison riffs and Uriah's snarling slap bass, this is a project we'll be keeping an eye on."

April 24, 2012

The first "official" video from "Road Less Traveled", for the song "High Wire", is released...visit our Media page to watch it!

March 29, 2012 - The Maine Sun Journal says, "Trio Points North's 'Road Less Traveled' is an instrumental journey worth taking"



MAINE SUN JOURNAL


"...the electric guitar morphed into a world with its own language, lore and icons. Bands like Yes and Rush garnered loyal followings. Artists like Jeff Beck and Eric Johnson set the standard. Shredded arpeggios became the hallmark of virtuoso technique. If you live in this world, then debut album "Road Less Traveled" from the California trio Points North needs to find its way into your collection. This instrumental body of work soars, swells, drifts and drives through an expressive journey beyond words...Points North guitarist Eric Barnett came to music as a violinist at age 5, attending Manhattan School of Music and Juilliard programs. He gives the electric guitar an emotional depth that can't be reached by mere technical proficiency in bending and tapping...aptly named "Road Less Traveled," this album veers off from the heavy metal paths, but doesn't abandon the gear. It encroaches onto the jazz and fusion right-of-ways, but doesn't loiter. Points North blazes a trail that at times is on fire with the high energy needed for a hard trek and at other moments smolders with a sensitivity that lulls you into a dream world... Points North explores a world of music, diverging from genres, and music pilgrims will find the miles to go a worthwhile journey. "

March 25, 2012 - The international press continues to rave about "Road Less Traveled"!



CLASSIC ROCK REVISITED


"Out of nowhere comes an album that will have guitar enthusiasts with their jaws on the floor. Points North is an amazing band that have put together an instrumental album of musical bliss. Led by Eric Barnett, who was a finalist in Guitar Player magazine's Superstar competition (how did he lose? This guy is fantastic). The band also includes former Whitesnake bassist Uriah Duffy and drummer Kevin Aiello. The band is too good for mere words to describe. This is a wet dream for anyone who loves good – make that great – musicianship and guitar playing. Not only is the music incredible, the songs range in emotion from happy to sad to angry to lost....The bottom line here is that if you love Rush, Eric Johnson, Joe Satriani or just killer guitar playing in general then you need to check this band out. Own this album. "



METAL.IT (Italian)


"

...a

great

progressive

rock album

, done "

as it was

once" and

fabricated to

exalt the

prowess

of the

mastermind

/

guitar hero

...

this is

an album

full of

surprises and

treasures,

full of

colors and

emotions

increasingly

rare

to find...a

lready among the

Top

of 2012.

"



METALCHRONIQUES (French)


"...they did well because the fans will take great pleasure in listening to this disc....progressive rock bursting with feeling and emotions. Barnett's guitar works wonders and expresses an impressive range of feelings. Of course it's arch-melodic and it's a real pleasure to browse these "rarely traveled roads" (see album title). POINTS NORTH slyly manages to avoid the pitfall of boredom on an instrumental album. By varying the many rhythms and atmospheres, the group managed to capture the listener's attention on almost the entire length of the album....the album is clever and perfectly executed..."

March 15, 2012 - "Road Less Traveled" as the #1 Hot New Release for Progressive Rock on Amazon!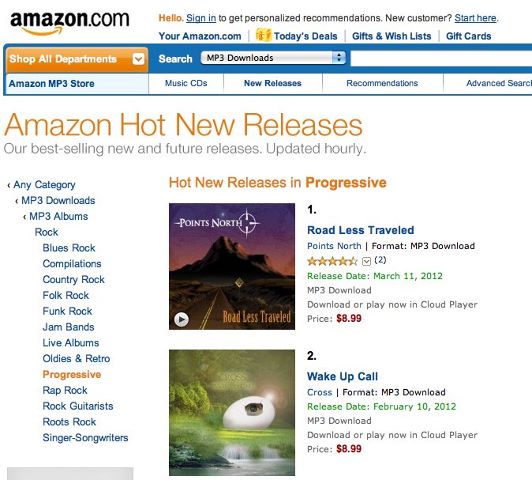 February 22, 2012

Reviews for "Road Less Traveled" are all overwhelmingly positive:



DANGER DOG


"Points North is the creation of and platform for Eric Barnett, a quite exceptional guitar player...This trio makes a strong statement for instrumental melodic rock...one might hear echoes from Jeff Beck to Pat Metheney to Joe Satriani to Steve Vai...What makes Road Less Traveled better is Barnett's ability to put his guitar, as the lead instrument, in context...Barnett is also a skilled composer. The song matters, it's melody and ebb and flow, as much as his guitar histrionics...Points North's Road Less Traveled is engaging and entertaining instrumental guitar-driven melodic rock...easily recommended as fine material."



SEA OF TRANQUILITY


"...Damn impressive! Road Less Travelled is one hell of an enjoyable instrumental CD from Points North... The band has been out on the road with acts such as Uli Jon Roth, Blues Traveller, Kings X, Eric Johnson, UFO, Michael Schenker, Al DiMeola, Steve Morse Band, George Lynch, Pat Travers, and many others in recent months, so chances are you might get a chance to see this hot band opening up for some of your favorites. If so, prepare to be amazed."

MELODIC.NET
"...guitarist Eric Barnett´s style reminds a bit of Steve Morse and Eric Johnson, he is brilliant...We´re talking instrumental guitar rock here in the same vein as Dixie Dregs, Dave Sharman and even Rush at times... The opener "Vast horizons" is more of a fusion rocker and it´s also one of the best tracks here along with the energetic "High wire". Oh yeah, let the guitar do the talking!"

MUSIKREVIEWS.COM
"Points North hails from California and consists of members Erick Barnett (guitar), Uriah Duffy (bass) and Kevin Aiello (drums). From reading the musicians' autobiographies on their website, I expected them to crank out some impressive music. I wasn't disappointed. Not even close...the musical talent on display here is simply stunning; most notably Eric Barnett's playing...He's one of those players that makes guitar players think "I'm such a bad musician" after hearing him...Their record label compared this album to Eric Johnson's Ah Via Musicom and Rush's song "YYZ." I agree with them...Road Less Traveled is a great instrumental prog rock album that fans of prog rock, instrumental music, and virtuosic playing will love..."


January 31, 2012

"ROAD LESS TRAVELED" NOW AVAILABLE FOR PRE-ORDER!

Visit magnacarta.net/pointsnorth for song samples, artwork, photos, and to pre-order "Road Less Traveled"

Uriah and Eric At NAMM performing for TC Electronics, January 22, 2012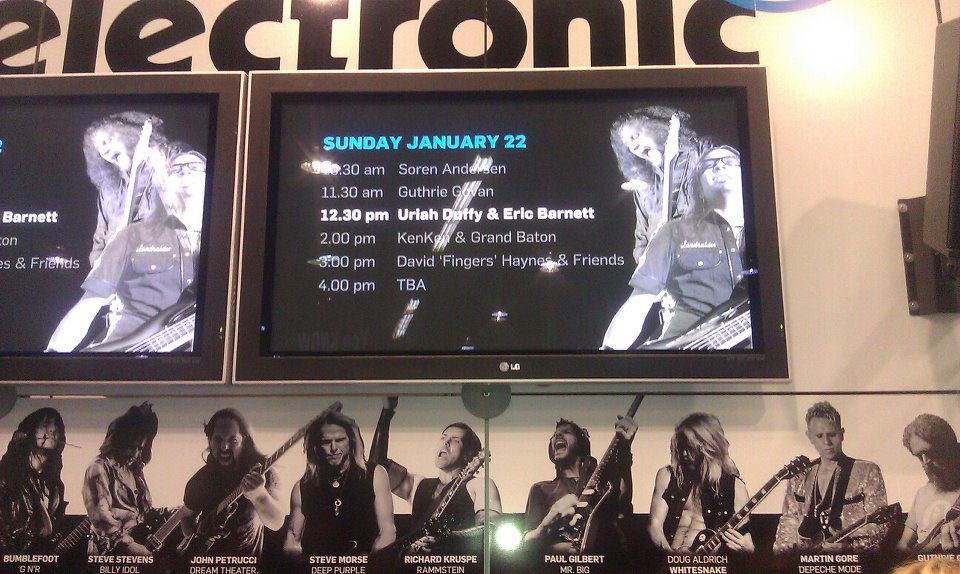 POINTS NORTH SIGNS WITH MAGNA CARTA RECORDS, AND WELCOMES URIAH DUFFY TO THE BAND!

December 9, 2011

We are thrilled to announce that our upcoming record, "Road Less Traveled", will be released in early 2012 on Magna Carta Records - home to artists such as Steve Morse, Liquid Tension Experiment, Alex Skolnick, Jordan Rudess of Dream Theater, Steve Stevens, and many, many more.

We are also excited to welcome the amazing Uriah Duffy, best known for spending three years as the bassist in Whitesnake, as a permanent full time member of Points North.

With founding bassist Damien Sisson on the road for the better part of the last two years since joining Bay Area thrash legends Death Angel, Uriah has been a mainstay playing shows with us, and with the label signing and a move to the "next level", we came to the difficult decision that Points North would be best served carrying forwards with Uriah on board. We wish Damien the best, we are SO proud of his success with Death Angel, and we will miss him.

And we also are grateful to have a player of Uriah's caliber in the fold.


---
Kevin and Eric with Eric Johnson, Galaxy Theatre Santa Ana June 14, 2011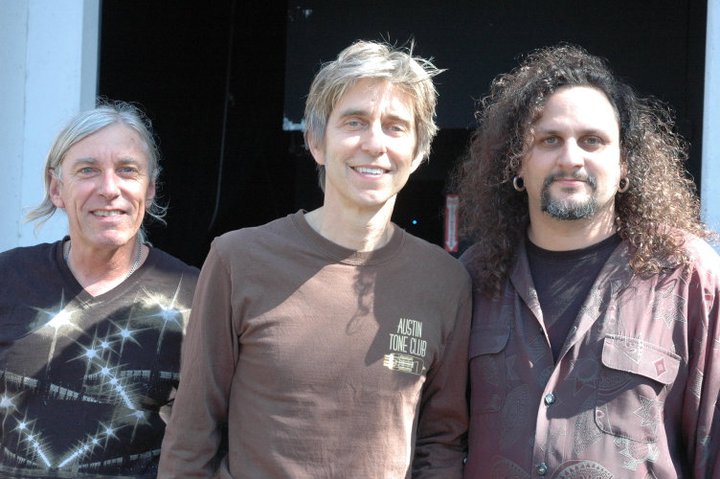 Guitar Player Magazine January 2011 pg. 40, "Guitar Player Live"; (also with our good friend Danny Jones, third from the top)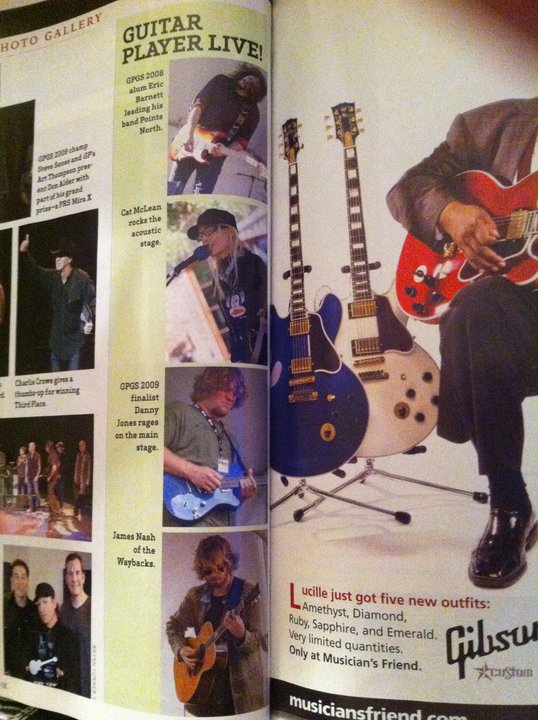 At the Last Day Saloon in Santa Rosa opening for Gary Hoey August 7, 2010, with special guest bassist Stuart Hamm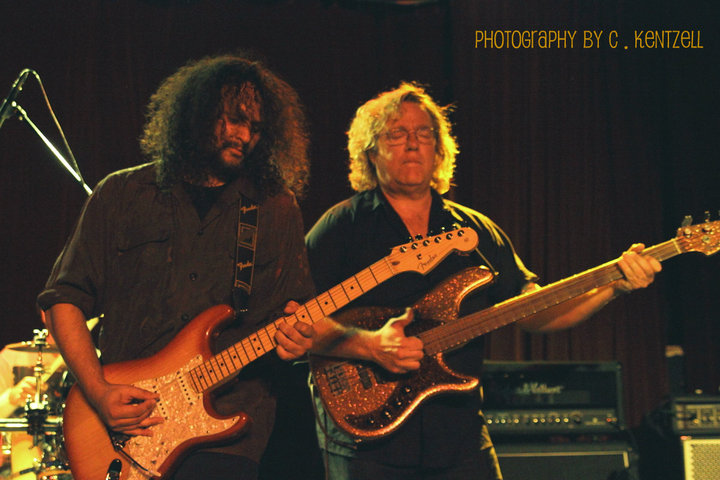 Points North (with Damien Sisson) with Steve Morse at the Brixton Jan. 14, 2010, as appeared in Guitar Player Magazine's June 2010 Editon (pg. 20)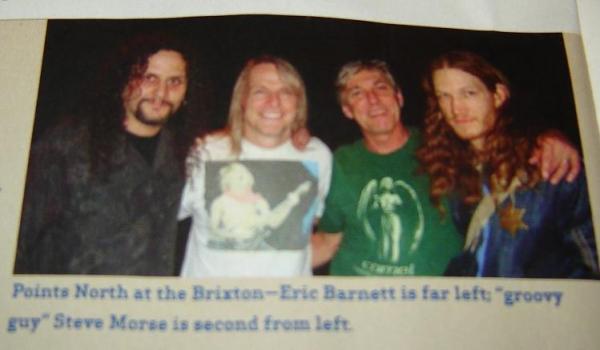 And the original photo...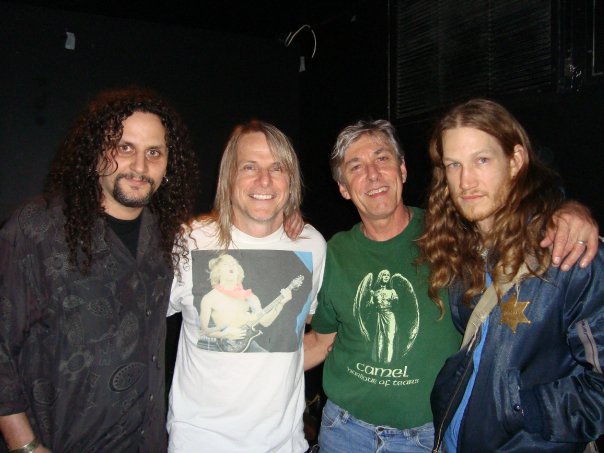 Contra Costa Times/Guitar Player Live! 2009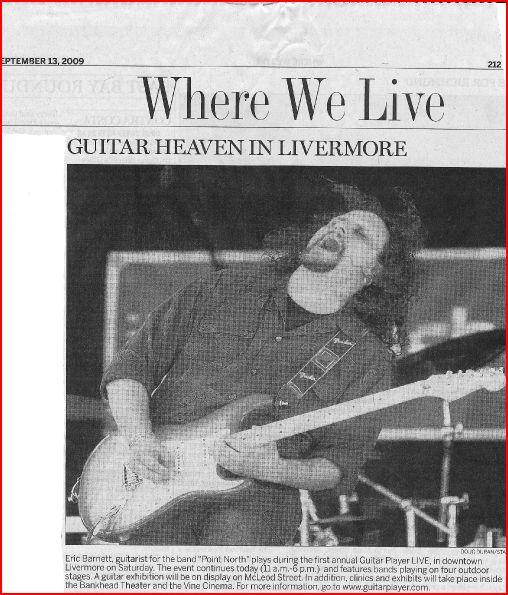 Blues Traveler at the Mystic Fall 2009/Eric Jamming with BT

Flyers from Uli Jon Roth/Michael Schenker Summer 2009


| | |
| --- | --- |
| | |
Points North (with Damien Sisson) with Al Di Meola at The Coach House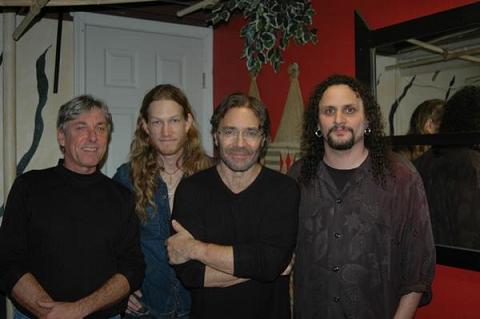 ---
Guitar Player Magazine, Dec. 8, 2008 - "Guitar Player's Guitar Superstars LIVE! in San Francisco"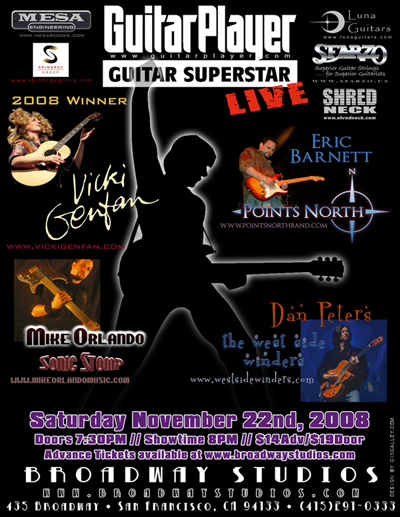 Eric Barnett at Guitar Player Magazine's
Guitar Superstar 2008
Joe Satriani said: "...lots of energy...guitar sounded really sweet, and I really liked the song, great performance!"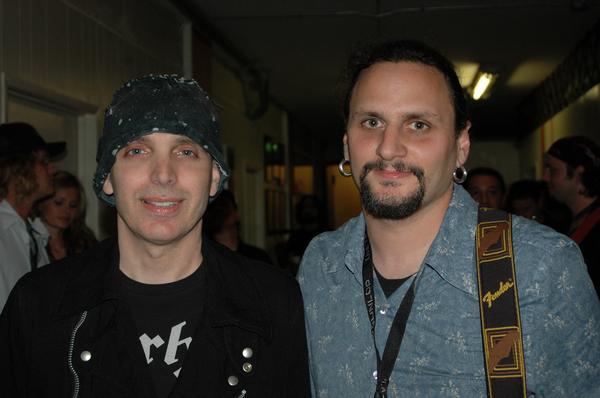 Steve Vai said: "...nice tone, great playing, chops, i like the way you able to go from really delicate, I know how hard it is to make the guitar sound great when you have a lot of gain and you're playing really soft, so your touch when you're playing soft, really nice...congratulations, you played your ASS off, man!"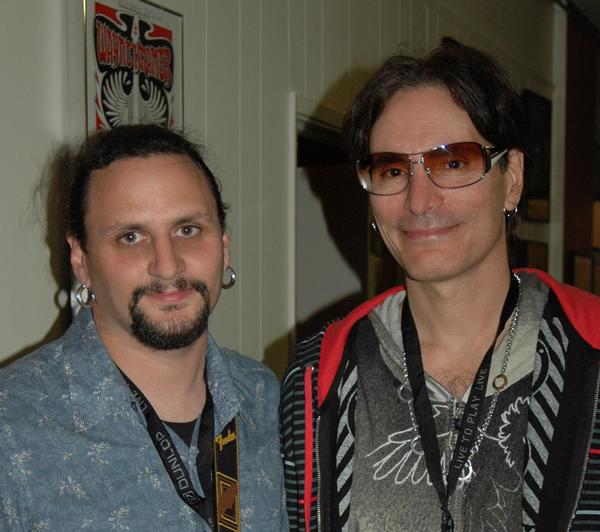 Elliot Easton (the Cars) said: "I loved it Eric...you're a very soulful player, I felt like you had enough chops to say pretty much anything you wanted to say on the guitar, but i liked what you had to say, great stage presence. And there was a seasoning to your playing that you don't always see from people that come and do these contests...i think that you have what it takes to be a succesful professional guitar player!"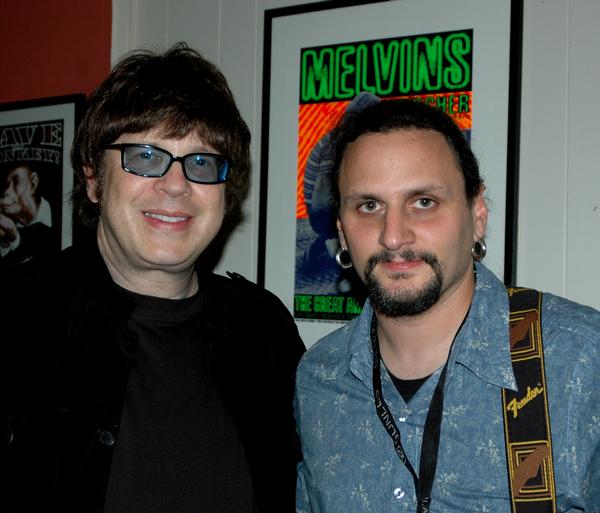 Press Democrat, Sept. 11, 2008 - "A real Guitar Hero from Sonoma" (Video)
Sonoma Index-Tribune, Sept. 11, 2008 - "Sonoman in Guitar Superstar"
Sonoma Sun, Sept. 4, 2008 - "Local musician up for 'Guitar Superstar'"
SF Weekly, Sept. 14, 2008 - "Last Night: Aspiring Guitar Heroes Bare All in Front of Joe Satriani, Steve Vai and Andy Summers" (Photos)
---
Points North (with Damien Sisson) with Larry Carlton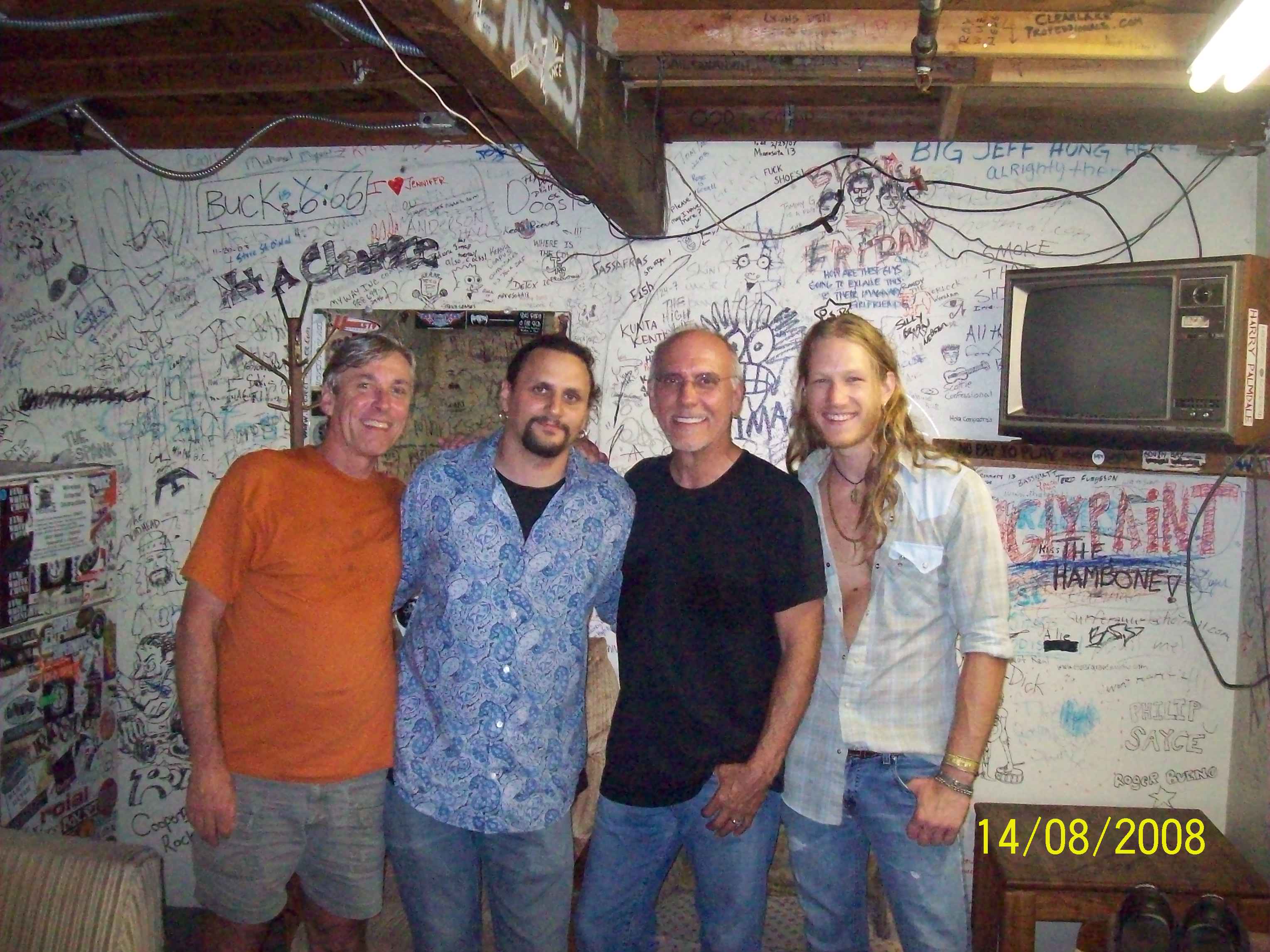 ---
Eric endorses Egnater Amps, T.C. Electronics effects, Seymour Duncan pickups, Mogami Cables, MXL Microphones, and Sfarzo strings.



Uriah Duffy endorses T.C. Electronics and Hipshot Tuners.
---
"Points North is a superb 5 song CD with excellent group playing highlighted by the unbelievable shredding of guitarist Eric Barnett. However, this is not just hot guitar playing. It is thoughtful and well executed composing, thoroughly entertaining and professional production, and just plain jaw dropping instrumental music and I do not say this lightly. This is one of the best sets I've heard this year. I also saw the band live and they kicked ass completely."
Don Campau, "No Pigeonholes" radio show, KKUP 91.5, Radio Marabu Europe, The Luver, webcasting and Luxotone.com
www.doncampau.com

"If you can drive, fly, or swim there, don't miss Points North...I promise you won't be disappointed!"
Jade, Broadcast Asylum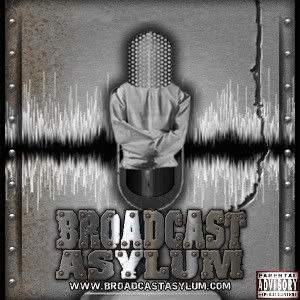 "Eric is a great player and has a killer tone!!!"
Favored Nations recording artist Doug Doppler
"Points North is a driving melody of solid rock!"
Chris, KXFX 101.7 "The Fox" Santa Rosa, CA